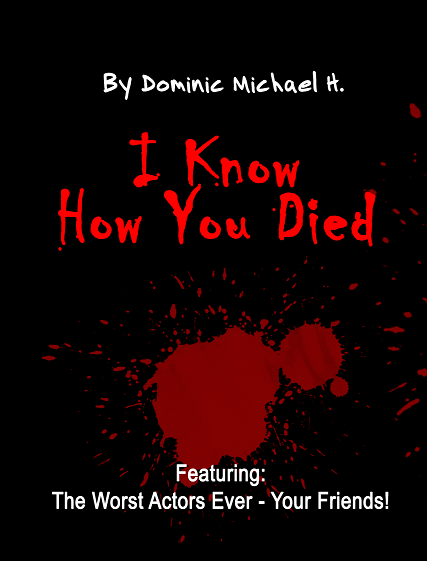 This game was created FREE for all supporters and fans of Medieval Lords because… we simply want to spread fun and joy (perhaps death and destruction too, in this case)
Seriously, we want to give back to you guys! This is a wildly funny game, especially if you have friends who can barely act. Prepare to laugh the night away!
You can download the Print N' Play files here and make the game in 5 minutes! Or you can acquire the pro service of TGC to do so for you at: The Game Crafter Shop (CLICK ME)
To get the free PnP Files, simply subscribe to us with your email from our website here!
Players are issued 3 random secret cards depicting various deaths, and they must choose one of them to re-enact. Then after everyone has done a quick 5 to 10 seconds re-enactment of their chosen scene, they toss these cards (still face-down) into a common pile in the middle of the table. Have more fun with formula 1 silverstone. Shuffle the pile and reveal the top card to everyone. If anyone wants to guess at who had acted out the death scene of that particular card, simply say 'I know!' and call out that player's name. This is on a first-come-first-serve basis. Note that the actual actor of the card cannot guess his/her own card, but must pretend to participate so as not to give the answer away.
If a scene was guessed correctly the first time, the guesser gains 4 Point. If a scene was guessed correctly the second time, the guesser gains 3 Point. The actor also gets 3 Points. All wrong guesses will deduct 1 Point from the guesser.
If no one got the correct answer to a scene after two attempts, the next scene is drawn and the game continues. After 3 scenes, the entire pile is discarded completely and a new round begins. This also means there will be some scenes that do not show up despite having been acted out. This is to increase the difficulty of the game.
The game ends when the last card is drawn, or when someone achieves 20 or more Points.
Have fun dying…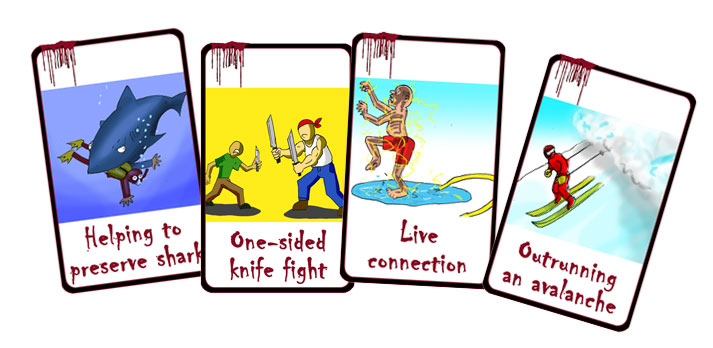 Supplying essay writing services of any kind and academic diploma: college, higher school, and graduate. From private to professional grademiners.com document preparation, from study paper to the case study, from dissertations to corporate reports, all are willing to deliver custom written composition requests to clients upon their original petition. Whether you need a final draft of an essay for faculty or for your M.D., there are informative article writers that can meet your needs. Contact an essay writer today.
In order to enjoy your vacations to Dubai, the best thing is to start looking to get a Dubai escort agency to protect dubai escorts you from most of the hassles that includes visiting the town in a group of friends or family. The products and services provided by these high-end star course escorts at Dubai are unmatched by anybody. Every one of the women aren't only beautiful and attractive, however they have been given most of the security and maintenance which can be demanded during their excursions in Dubai. Spanish escort porn specific escort Praha is also accessible the particular city, if you ask for it.
Even the optimal/optimally essay services have recently gained sufficient popularity among pupils to own got the interest of several college and university campuses. Those who are looking for a solution to get paid some excess money ought to think about selling their own preferred essays for all these firms. If the practice is easy, one could earn £ 200 per hour and on occasion even more depending in your own own skill. There are a few factors to stay in your mind while attempting PAPERHELP to sell the composition to these organizations. It's important to investigate and assess the businesses to ensure they'll pay for the informative article they've been getting and perhaps never only pocketing the tuition cost.